FUT Hair Transplant
Consultations offered at our four convenient locations in La Jolla, San Diego, Newport Beach and Beverly Hills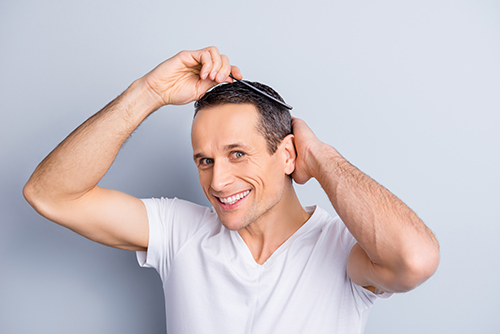 Hair loss can be disheartening and frustrating. So much of your appearance and confidence revolves around your hair. A receding or thinning hairline can cause men and women to lose their identity and self-confidence.
What's the solution to thinning hair? If you're experiencing hair loss, hair transplantation can effectively restore your hairline. Explore FUT hair transplantation with Dr. Richard Chaffoo at California Hair MD. Our state-of-the-art hair restoration practice combines the latest advancements in medical and surgical hair restoration, including FUT hair transplantation, FUE, and NeoGraft®.
Contact California Hair MD to schedule a visit to one of our convenient Southern California locations. We have offices in Newport Beach, La Jolla, San Diego, and Beverly Hills. Let us help you with your hairline restoration treatment.
Before and After Photos
Strip Method
Follicular unit transplantation is a method that entails removing a thin strip of hair and tissue from the back of the head and dividing it into hair grafts.
FUT was historically one of the most popular options for hair transplantation until 10-15 years ago. However, modern techniques for hair restoration like NeoGraft® and ARTAS® have transformed hair restoration and eclipsed FUT's previous popularity and are now the most commonly requested methods for hair restoration. Most sophisticated hair restoration practices offer FUE due to patient demand for an easier recovery and avoidance of a long, linear scar.
Procedure
FUT is a surgical treatment for hair loss that involves removing a strip of hair-bearing tissue from the back of the scalp. Then, our skilled team of technicians carefully divides the extracted hair into individual follicles. They prepare implantation sites in areas of the head experiencing hair loss, carefully placing them to ensure optimal follicle positioning and depth. Our goal is to create optimal thickness and a natural hairline shape.
When the hair grafts are ready, usually in single or two-to-three follicle rows, Dr. Chaffoo carefully places each graft into the prepared implantation sites.
FUT hair transplantation takes several hours. We can treat smaller areas in three to four hours, while larger grafting areas may require eight hours or more. After completing the process, our team will teach you how to care for the scalp as it heals. FUT hair transplantation is typically an outpatient procedure and does not require an overnight stay in the hospital.
Recovery
California Hair MD will be with you throughout the hair restoration process, including the recovery period. Our technical staff will provide detailed aftercare instructions. Carefully following your recovery guidelines will help you heal quickly after your procedure and will minimize your risk of complications while maximizing your potential for hair growth. FUT is a surgical procedure and will require some downtime. Most patients take one to two weeks off from work and minimize strenuous activities like exercise, swimming, and heavy lifting until Dr. Chaffoo has cleared them to do so.
FUT vs. FUE
FUE offers many benefits over FUT. The linear strip method for hair transplantation is faster and less time-consuming than follicular unit extraction. By removing a strip of tissue from the back of the head, Dr. Chaffoo can quickly harvest thousands of grafts. FUT is a shorter procedure but often results in a long and visible scar along the back and sides of the scalp. FUT has a longer recovery than FUE with more swelling, pain, and numbness as compared to FUE. Most patients of mine who have undergone FUT elsewhere and undergo FUE with our practice remark that the FUE procedure was much more comfortable with a shorter and easier recovery. FUE avoids the linear scar and often allows a patient to wear his hair short.
Modern FUE methods, including NeoGraft and ARTAS robotic hair transplantation, have made FUE hair transplantation more accessible. These methods partially automate the FUE process, making it faster and more accurate.
By choosing California Hair MD for your hairline restoration treatment, you will have access to the latest technologies and techniques in hair restoration.
Ideal Candidate
Restore your hairline and your confidence with hair transplantation at California Hair MD. A board-certified dermatologist and triple board-certified plastic surgeon founded our state-of-the-art treatment centers. Dr. Stuart and Dr. Chaffoo use their medical specialties to provide a comprehensive approach to hair loss treatment that uses medical and surgical solutions.
If you're ready to learn more about hair transplantation, contact California Hair MD by completing our online contact form or by calling one of our office locations. We look forward to meeting with you soon to discuss FUT hair restoration and other options for addressing male pattern baldness and hair loss.
FAQ
How much does FUT hair restoration cost?
The cost of hair transplantation depends on the number of grafts needed and the method used. Our team will provide you with a personalized quote for your hair restoration during your complimentary consultation appointment with Dr. Stuart of Dr. Chaffoo.
When will I see the results of my FUT hair restoration?
Fuller results of hair restoration are usually visible within six to nine months of surgery.
Will I need to cut my hair for FUT?
You will need to have your hair cut in some areas for FUT, but a fuller head shave is not necessary.
How do I find FUT hair restoration near me?
Finding a skilled provider for your hair transplantation procedure is essential to achieving the best results. California Hair MD has four convenient locations in Southern California. If you live out of the area, we offer virtual consultations and help with travel arrangements so you can fly in for treatment from anywhere around the U.S. or the world.
How many grafts will I need?
Hair loss is individual. The severity of your hair loss will determine the number of grafts needed to restore thickness and depth to your hairline. Dr. Chaffoo can provide you with a detailed treatment plan after an examination and consultation.
Am I a good candidate for FUT?
FUT hair restoration is highly effective for restoring a fuller head of hair and a natural-looking hairline. If you're experiencing hair loss, schedule a complimentary consultation at California Hair MD to explore your options for hair restoration. While FUT is only right for some patients, it isn't the only solution available. Dr. Chaffoo will make personalized treatment recommendations that may include FUT, manual FUE, NeoGraft, or ARTAS robotic hair transplantation. If you want a fuller head of hair, contact us to find out if you're a good candidate for hair transplantation.
Will I have scarring after FUT?
Since FUT requires the removal of a strip of tissue from the back of the scalp, patients will have a long, linear scar across the back of the head. When the hair grows back, it may hide the scar but it may be visible if the patient wears his hair short. After FUT hair transplantation, most patients wear longer hairstyles to conceal the scar. If you're concerned about scarring, consider FUE hair transplantation, which does not create any linear scars.