Facial Hair Transplant
Consultations offered at our four convenient locations in La Jolla, San Diego, Newport Beach and Beverly Hills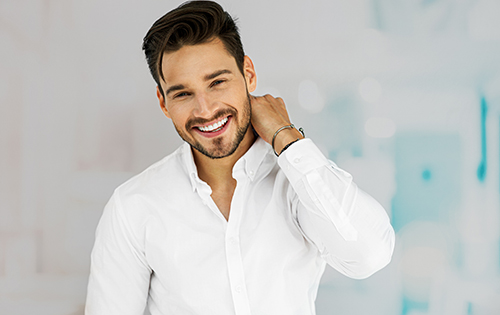 If your beard or mustache is patchy and sparse rather than thick and full, you can gain added thickness with a facial hair transplant – a procedure used to address facial baldness, hair loss, and patchiness.
Facial hair transplants aren't only for beards. This procedure can add thickness and enhance shape to any feature that needs more hair. Dr. Richard Chaffoo, our founder and a triple board-certified plastic surgeon, has used this procedure to add facial hair to beards, mustaches, eyebrows, eyelashes and facial scars from previous plastic surgery or trauma.
If you have areas of missing or thin facial hair, facial hair transplantation can enhance your appearance. California Hair MD offers this highly specialized procedure at our hair restoration facilities in Beverly Hills, La Jolla, San Diego, and Newport Beach. If you dream of a thicker beard or fuller eyebrows, contact us to schedule a complimentary consultation.
Ideal Candidate
Patients who request facial hair transplantation because they are experiencing:
Eyebrows that have thinned from over-tweezing or are naturally thin
Prominent facial scarring that facial hair can camouflage
Missing areas of hair on facial scars or injuries in the beard area
Asymmetry in the beard or mustache
Patchiness that prevents fuller enjoyment of a beard or mustache
Medical conditions that have impacted facial hair growth, including thyroid disease and autoimmune disorders
Procedure
Facial hair transplantation is like any other hair transplantation procedure. A hair restoration superspecialist extracts donor hair and carefully places it into facial areas that require additional hair. Ensuring the best results necessitates carefully removing, preparing, and placing each hair to create natural-looking positioning and placement.
Dr. Chaffoo uses hair transplantation techniques like those performed on other areas of the head, including NeoGraft® and ARTAS® robotic hair restoration.
Locations
Hair for beard, eyebrow, or mustache implants comes from the back of your head. Not only will this hair be similar in color and thickness to your existing hair, but it is also resistant to loss and typically provides long-lasting results when used in hair restoration.
Beard Implants at California Hair MD
California Hair MD has established a reputation throughout the U.S. for our world-class hair restoration services. Whether you live locally or want to travel to our facilities for treatment, reach out to us and schedule a complimentary consultation. We have four convenient locations throughout Southern California. Call one of our hair restoration facilities or reach out online to start learning about beard hair transplant in California.
FAQ
How much is a beard transplant?
The cost of facial hair transplants depends on the amount of hair needed for transfer. We understand patients need accurate pricing information to plan for their procedure and will provide a detailed, customized quote for beard transplant cost during your consultation. Pricing for facial hair transplants is comparable to the cost of hair restoration procedures like FUE and FUT.
What will I look like after a beard transplant?
Beard hair transplants look very natural, and are virtually undistinguishable from naturally grown facial hair. As a triple board-certified plastic surgeon and hair restoration superspecialist, Dr. Chaffoo has an eye for aesthetics and takes pride in creating balanced results. If you would like to see real-life patient examples of facial hair transplantation, ask to see our beard transplant before-and-after photos. 
What is recovery like after beard implants?
Using advanced hair restoration techniques like FUE, recovery after facial hair transplantation will have slight impacts on your life and work schedule. Many types of facial hair restoration are minimally invasive and allow patients to quickly return to work, exercise, and other daily activities. Most patients take one to two weeks off from work after their procedure. Our team will teach you how to care for your beard implants so you can recover quickly and minimize potential complications.
How long do beard implants last?
Facial hair transplants are a long-lasting solution to thin or missing facial hair. Like hair transplants on the scalp, beard implants can provide permanent results. Dr. Chaffoo harvests his implants from the back of the scalp, an area that is highly resistant to loss. 
Will my beard implants grow normally?
Hair and beard transplants retain the characteristics from the donor area. If you receive beard or eyebrow implants from Dr. Chaffoo, these transferred hairs will continue to grow at a rate like the hair on the back of your head. You can trim your beard as usual to maintain a consistent and natural look. For facial hair transplants on the eyebrows or eyelashes, you may need occasional trimming, as the transferred hair may have a longer terminal length than your natural lashes or brows. 
Am I a good candidate for a beard transplant?
Scarring is a common concern for many patients considering beard implants. Whether you choose FUE or FUT for your procedure, scarring will not be prominent on the face or in the beard area. Dr. Chaffoo uses tiny incisions to place each implant, which do not typically create a noticeable scar. Scarring in the donor area will depend on the technique used for removing and extracting the beard implants. If Dr. Chaffoo uses the FUT or linear strip method for extraction, there will be a scar across the back of the head. Your hair will hide the scarring, but it will be potentially visible with shorter hairstyles. FUE does not leave a visible scar.