Facial Hair Transplant
Consultations offered at our four convenient locations in La Jolla, San Diego, Newport Beach and Beverly Hills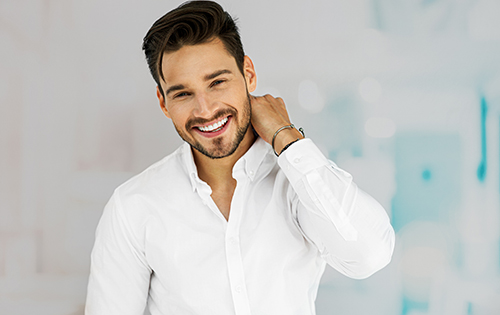 Facial hair transplantation (FHT) is a cosmetic procedure that takes live hair-producing follicles from one area of the scalp or body and implants them into facial skin to enhance the density of facial hair.
The procedure can be applied to different areas on the face, such as beards, sideburns, goatees, moustaches, and eyebrows. FHT is a good solution for when the patient has sparse, patchy, or absent facial hair due to genetics, scarring, or injury. After undergoing facial hair transplant, patients will see boosted thickness and refined shape on any facial feature that requires more hair.
Dr. Richard Chaffoo, America's first triple-board hair transplant plastic surgeon, has utilized facial hair transplant to help patients in Southern California and beyond. If you have any areas on your face with scant or absent hair, let Dr. Chaffoo help enhance your appearance. Whether you aspire to a denser beard or more abundant eyebrows, get in touch with us to arrange a free consultation. California Hair MD delivers this highly specialized treatment at our hair restoration facilities in:
Call or reach out online today!
Interested in learning more about hair restoration? Follow our blog! 
About Facial Hair Transplant
Recent advancements in hair transplantation techniques have made it possible to achieve natural-looking results in facial hair restoration.
Eyebrow restoration
Beard and goatee transplants
Sideburn restoration
These procedures have become increasingly popular due to the impressive outcomes that can be achieved. According to the 2020 consensus of the International Society of Hair Restoration Surgeons, approximately 15% of hair restoration procedures in men were aimed at non-scalp areas of the body, with 5% of these procedures targeting the beard / mustache area specifically. [1]
FHT is typically sought by men and women who have thin or patchy facial hair growth or have lost facial hair due to injury, surgery, or medical conditions such as alopecia. There are several other reasons why someone might want or need facial hair transplant.
For some men, a full beard or mustache is a sign of masculinity and can boost their self-confidence.
Others may want to improve their appearance for personal or professional reasons, such as to look more attractive or to enhance their chances of success in their career.
Some men may want to hide scars or other imperfections on their face.
Many patients wish to correct the after-effects of certain cosmetic surgery procedures like browlift and facelift surgery that has removed the sideburn and temporal hairlines.
For some, a lack of facial hair can be a source of embarrassment or shame. It can also lead to feelings of self-consciousness and anxiety, especially if they feel that their appearance is not living up to societal or cultural expectations. In some cases, a lack of facial hair can even lead to depression or social withdrawal.
Facial Hair Transplant for Women in California
While facial hair transplant is more commonly sought by men, women may also consider the procedure if they have thin or patchy eyebrows due to genetic factors, medical conditions, or over-plucking. The procedure involves taking hair follicles from the scalp and transplanting them to the eyebrows or eyelashes to create a fuller, more natural look.
Eyebrows and eyelashes are key features that frame the eyes and help to express emotions. Without these features, women may feel self-conscious, unattractive, or even embarrassed. This can affect their confidence, self-esteem, and overall quality of life.
Donor Sites
Hair for beard, eyebrow, or mustache implants comes from the back of the scalp. Not only will this hair be similar in color and thickness to your existing hair, but it is also resistant to loss and typically provides long-lasting results.
Although viable hairs can sometimes be obtained from the legs and chest, it is important to note that regrowth may not be as reliable as with scalp hairs. [2] Therefore, patients should be advised accordingly before undergoing hair transplantation from non-scalp donor areas.
Benefits
Facial hair transplant can provide a range of benefits for individuals who are looking to enhance their appearance and boost their confidence. By producing natural-looking results that are customized to the patient's individual needs and preferences, FHT can help to improve self-esteem, provide long-lasting results, and enhance overall quality of life.
Ideal Candidates
Facial hair transplant may be requested by patients with prominent facial scarring that they wish to conceal with hair growth. Some individuals may have naturally thin or over-tweezed eyebrows that they wish to enhance. Still other patients who experience patchiness or an uneven distribution of hair on their beard or mustache may also benefit from the procedure. Furthermore, patients struggling with medical conditions that impact facial hair growth, such as thyroid disease or autoimmune disorders, can also be addressed with facial hair transplant.
While patients in some situations may be good candidates for eyelash transplant, Dr. Chaffoo determines eligibility on a case-by-case basis.
Personal Consultation
When conducting the consultation, Dr. Chaffoo will review the patient's goals carefully. Once the desired results are understood, the areas to be transplanted are marked out. Dr. Chaffoo will then assess the availability of healthy donor hair that can be extracted for transplantation. Donor hair is usually harvested from the back of the scalp, where the hair is typically thicker and more resistant to balding.
There's no universal standard for an ideal facial hair pattern since personal preferences are influenced by various factors, such as
Family history
Ethnicity
Religion
Shape of the face
Facial features
As such, the hair transplant procedure is tailored to each patient's unique needs and goals to achieve the most natural and satisfying results.
Dr. Chaffoo will consider the number of grafts required to achieve the desired results and discuss the estimated recovery time and any potential risks associated with the procedure. The patient will also be advised on pre-operative instructions.
Schedule your consultation by calling us at (619) 633-3100 or completing this form.
Preparation
Preparing for a facial hair transplant procedure is an important step in ensuring a successful outcome. Here are some general guidelines to follow when preparing for the procedure:
It is recommended that patients stop smoking for at least four weeks before and after the procedure. Smoking can have a negative impact on the healing process, hair growth and increase the risk of complications during and after the procedure.
Patients should avoid drinking alcohol for at least three days prior to the procedure to minimize the risk of bleeding and ensure a smooth recovery.
Patients should avoid taking blood-thinning medications, such as aspirin or ibuprofen, for at least two weeks prior to the procedure to minimize the risk of bleeding.
Patients should arrange for transportation to and from the clinic on the day of the procedure, as sedatives or anesthesia will be used during the procedure.
Dr. Chaffoo will provide specific pre-operative instructions to follow prior to the procedure, such as avoiding certain foods and medications, and washing the hair and face thoroughly before the procedure.
The Procedure
Dr. Chaffoo uses the advanced technologies FUE devices including NeoGraft® and ARTAS® robotic hair restoration. These procedures are similar to traditional hair transplantation but offer more precision and accuracy in the harvesting and placement of donor hair for natural-looking results.
During the procedure, Dr. Chaffoo uses ARTAS advanced imaging and mapping technology to identify and select the best hair follicles for transplantation. Then, using a NeoGraft handheld device, he extract hair follicles from the patient's scalp. The device creates tiny circular incisions around each follicle, which are then gently removed and prepared for transplantation. The donor hair is then strategically placed into the facial regions that require additional hair growth, such as the beard or mustache.
NeoGraft and ARTAS offers quicker recovery times compared to traditional hair transplantation techniques, allowing patients to return to their daily activities sooner.
Some patients do not wish to shave the donor area, often the case for women. In such cases, a strip of non-shaved scalp from the back of the head can easily be removed. This is called FUT or follicular unit transplantation. This strip of scalp is then divided into individual hair follicles for insertion into areas of hair loss. The defect in the scalp is carefully closed with sutures, creating a fine linear scar in many cases after healing.
Recovery
Patients can expect a relatively smooth and straightforward recovery process. Here are some key things to keep in mind about the recovery process:
Swelling and discomfort – It's normal to experience some swelling and discomfort in the treated areas for the first few days after the procedure. You may be given pain medication to help manage any discomfort.
Rest and recovery – You will need to take it easy for a few days after the procedure to allow your body to heal; this means avoiding strenuous activities and getting plenty of rest.
Avoid touching or scratching the treated areas – It's important to avoid touching or scratching the treated areas, as this can damage the newly transplanted hair follicles.
Avoid exposure to sunlight – You should avoid exposure to sunlight for at least two weeks after the procedure, as this can damage the skin and hair follicles.
Avoid smoking and alcohol – Smoking and alcohol consumption can slow down the healing process, so it's best to avoid these for a few days after the procedure.
The California Hair MD team will provide you with specific instructions on how to care for your newly transplanted facial hair. Follow these instructions carefully to ensure a successful recovery and call us with any questions or concerns.
Your Hair Regrowth Results
It can take several months for the transplanted hair follicles to start producing new hair growth. In the meantime, it's important to continue taking good care of your skin and facial hair to ensure the best possible results. Once the patient has fully recovered from the procedure, they can expect to see a noticeable improvement in their facial hair growth, with fuller, thicker, and more natural-looking hair.
For many patients, facial hair transplant can help to create a more masculine or mature appearance, which can be particularly beneficial for those who struggle with patchy or sparse facial hair growth. A full, well-groomed beard or mustache can also help to frame the face and accentuate its best features, creating a more balanced and attractive overall appearance.
In addition to the physical benefits of facial hair transplant, many patients also report improvements in their self-esteem and confidence. For men who have struggled with thin or patchy facial hair growth, facial hair transplant can be a life-changing procedure.
The results of eyebrow hair transplant can be dramatic, with patients enjoying fuller, more symmetrical eyebrows that enhance their facial features and create a more youthful appearance. The new eyebrow hair can be shaped and groomed to suit the patient's preferences, with the ability to fill in gaps, create a more defined shape, and add density to the eyebrow area.
Costs
Patient's interested in learning more about FHT with Dr. Chaffoo should schedule a consultation. Factors such as the number of hair follicles to be transplanted and the complexity of the procedure can all affect the final cost. However, Dr. Chaffoo and his team will provide a detailed estimate of the cost during the consultation so that the patient can make an informed decision.
Call (619) 633-3100 today!
References
Keene SA, Ceh V, Sideris K. 2020 ISHRS Practice Census Offers Key Insights on Hair Restoration Practices and Procedures. International Society of Hair Restoration Surgery. 2020;30(3):97-97. https://doi.org/10.33589/30.3.97
Epstein J. Facial Hair Restoration. Facial Plastic Surgery Clinics of North America. 2013;21(3):457-467. https://doi.org/10.1016/j.fsc.2013.05.004