FUE Hair Transplant
Consultations offered at our four convenient locations in La Jolla, San Diego, Newport Beach and Beverly Hills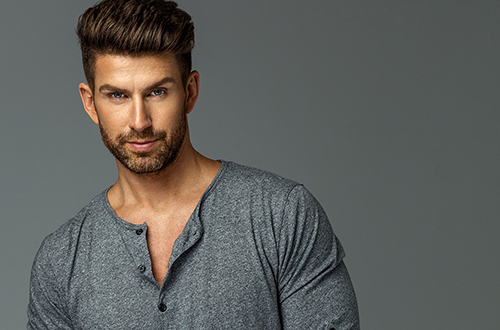 FUE is the gold standard for hair restoration in California. Modern technology has transformed the FUE hair transplantation process, improving results and making this advanced method for hair transplantation more accessible to men and women across the U.S.
Before and After Photos
If you're considering FUE hair transplantation, come into California Hair MD and explore your options for hair restoration under the guidance of a triple board-certified plastic surgeon and board-certified dermatologist. Our unique boutique practice is science-based and technology-driven to improve hair restoration outcomes and provide a first-class patient experience.
Ready to rediscover a fuller head of hair? California Hair MD proudly serves hair restoration patients in La Jolla, San Diego, Beverly Hills, or Newport Beach, and  the surrounding Southern California areas. Schedule a consultation today!
What Is FUE?
FUE, short for follicular unit extraction, is an advanced type of hair restoration surgery that allows patients to restore a natural-looking hairline and fullness without an invasive surgical procedure.
In the traditional strip method, a long strip of hair-bearing skin is removed from the back of the head and the scalp is pulled tight and stapled closed. After healing, patients have a long scar across the back of the head. The extracted strip of tissue is divided into individual hair follicle grafts, which are transplanted into areas with hair loss.
FUE uses innovative technology to remove individual hair grafts less invasively.
Benefits: FUE vs. LSH Restoration
The linear strip method for hair transplantation was used for many years to restore hairlines and fullness after hair loss. When performed by a skilled hair restoration surgeon, the strip method can produce good results; however, the process is difficult and requires an extended recovery period.
FUE removes individual grafts rather than a large strip of hair-bearing skin. This less invasive hair restoration option offers patients many benefits over the strip method.
No linear scar
General anesthesia and IV sedation are not needed
Less invasive method for extracting hair follicles
Less bleeding and fewer complications during surgery
Greater precision for a more natural-looking result
Fewer activity restrictions and less downtime
No loss of sensation or feeling of numbness at the back of the scalp
Options
For many years, FUE hair restoration was inaccessible to many patients due to the time-consuming and challenging process of harvesting hair. Modern methods for FUE automate the process, making this advanced hair restoration process more accessible and creating more usable grafts for a fuller and natural-looking hairline. At California Hair MD, our team uses some of the most advanced options for FUE hair transplantation, including NeoGraft® and other cutting edge manual FUE devices, ARTAS®, and SmartGraft.
Considerations
Hair loss is highly individualized. To achieve the best possible results, you need an individualized treatment solution. While many hair restoration practices serve large numbers of patients with a one-size-fits-all approach, California Hair MD works differently:
Our boutique practice focuses on individualized patient care.
We are the only hair restoration center in the U.S. run by a triple board-certified plastic surgeon and a board-certified dermatologist.
We offer patients the latest advances in hair restoration through comprehensive treatment solutions, science-based technology, and cutting-edge clinical research.
We are a Center of Excellence and train physicians from around the country and globe in the latest hair restoration techniques.
Consultation
Our consultations are performed by one of our physicians. You'll work one-on-one with the physician to explore treatment options and learn about hair restoration. Our consultations are information-driven, not sales-focused. Our goal is to teach you about hair restoration and provide you with the knowledge you need to make an informed decision about your next steps.
As we believe patient education is essential, we want our patients to deeply understand hair restoration science. You'll receive a personalized treatment plan that outlines the recommended options for male pattern baldness treatment or hairline restoration. Patients also receive a copy of our recently published book on hair loss.
When you leave your consultation, you'll know your options for hair restoration, understand the basic science behind hair loss and transplantation, and have detailed information about pricing and financing options.
Contact
Schedule a consultation at California Hair MD to explore your options for FUE hair restoration, including NeoGraft and ARTAS robotic hair restoration.
Contact one of our California hair restoration locations to schedule your consultation: La Jolla (858) 623-0221, Beverly Hills (310) 595-1188, San Diego (619) 633-3100, Newport Beach (949) 612-2002.
FAQ
Where can I find FUE hair restoration near me?
With locations in La Jolla, Newport Beach, San Diego, and Beverly Hills, California Hair MD is conveniently accessible to most patients living in Southern California. We also serve patients across the state and country that travel to see us for our world-class expertise in FUE hair restoration.
How much does FUE hair restoration cost?
The cost of hairline restoration treatment typically depends on the specific anatomic area(s) of the balding scalp that need hair restoration. Advances in FUE technology have improved the pricing for this advanced hair restoration procedure, making it financially accessible to more patients than ever before. We have many treatment options available at California Hair MD and can work with your budget to find a treatment solution that works for you. You'll receive detailed information about cost and payment information during your consultation appointment with Dr. Chaffoo or Dr. Stuart.
Will I need to wear a certain hairstyle after FUE?
Unlike the linear strip method for hair restoration, FUE does not leave any linear scarring on the scalp. The lack of linear scarring after FUE means that patients have more flexibility for styling their hair after hair restoration. You can choose to wear your hair long or short in any style you desire. Hair is cut short for the FUE procedure but will immediately begin to regrow.
Is FUE the most effective male pattern baldness treatment?
FUE is one of the best hair restoration options available today. It is known for creating natural-looking hairlines without noticeable linear scarring. Since FUE is less invasive than the linear strip method, patients recover faster and enjoy an easier procedure/recovery. FUE is one of the most effective and recommended options for hair restoration. Come in for a consultation and find out if FUE is right for you.
How much work will I need to miss for FUE hair restoration?
Downtime is minimal after FUE hair transplantation. Within a week or two, most patients will only need to miss a few days of work and are back to most daily activities, including exercise. FUE hair transplantation is less invasive than the linear strip method and significantly reduces downtime and activity restrictions.
Am I a good candidate for FUE hairline restoration treatment?
Are you experiencing hair loss or thinning? Do you want a fuller head of hair? FUE transplantation may be able to help you achieve your goals. The best candidates for FUE have adequate donor hair (usually hair from the back of the head), good overall health, and motivation to restore a youthful hairline