FUE
Consultations offered at our four convenient locations in La Jolla, San Diego, Newport Beach and Beverly Hills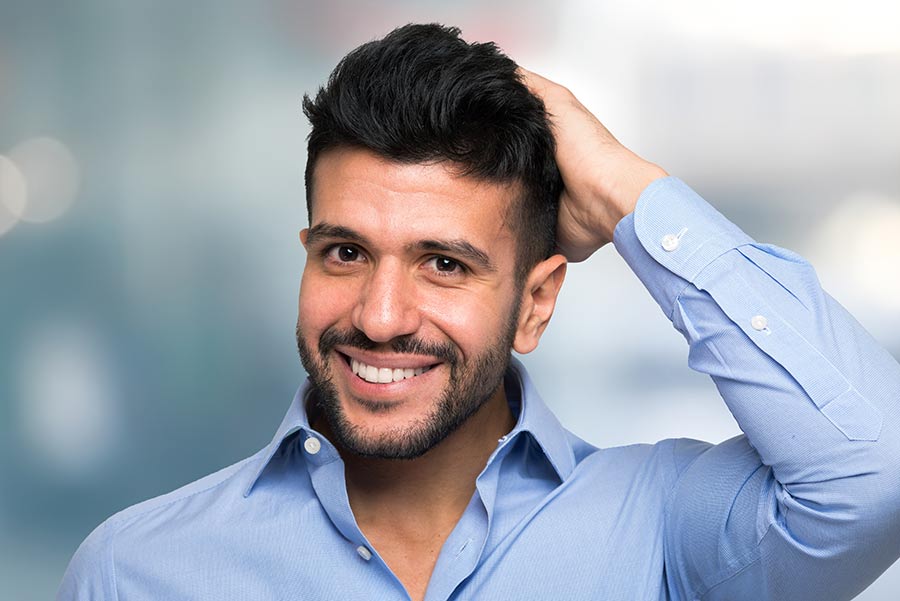 FUE (follicular unit extraction) is an advanced hair restoration technique that allows patients to restore their natural hairline and fullness with a minimally invasive surgical procedure. Hair loss is quite common. It affects millions of people across the world and can cause devastating damage to a person's emotional and psychological well-being.(1) In fact, up to 50% of all people will experience hair loss at some point in their lives. It can be the result of a variety of conditions, such as androgenic alopecia, autoimmune disorders such as alopecia areata, and as a side effect of chemotherapy (anagen effluvium) or fungal infections such as tinea capitis.(2) Hair loss can also be caused by injuries that scar the skin and destroy the hair follicles.(3) Your hair is part of who you are, and hair loss can feel like losing a piece of yourself. Hair loss affects many people, but there is a solution.
If you're considering FUE hair transplantation, then come to California Hair MD to explore your options at one of the most-respected hair restoration clinics in California. Our practice has been designated as the only "Center of Excellence" on the West Coast for robotic hair transplantation, where physicians from all over the world come to learn about the latest advancements in hair transplant surgery. Triple board-certified surgeon Dr. Richard Chaffoo and dermatologist Dr. Susan Stuart possess unparalleled expertise in the latest scientific advancements in hair restoration. If you're ready to take the next step towards a fuller head of hair, contact us for a personal consultation. Consultations are offered at our conveniently located offices in Southern California. Give us a call today at any of our four locations:
Before and After Photos
About
FUT (follicular unit transplantation), the predecessor of FUE, was the popular approach to surgical hair restoration in the 1990s. This procedure involved removing a long strip of hair-bearing skin from the back of the head, isolating the individual hair follicles, and grafting them onto the scalp. This painful and invasive surgery has since given way to the most recent advancement in hair restoration surgery – FUE (follicular unit extraction).(5) First described in 2002, FUE is a minimally-invasive surgical procedure that harvests hair follicles from the temporal and occipital scalp (sides and back of the head) using a specialized device and transplants them to the areas of hair loss.(6) Although most frequently used for hair restoration on the scalp, FUE treatment can also be used to restore facial hair, and eyebrows.
FUE Technology
SmartGraft
The SmartGraft device is an advanced, handheld hair transplantation tool that allows for speed and precision during an FUE hair restoration treatment. The device removes micro-grafts of one to four hair follicles from the donor location at a time, using vacuum suction rather than scalpels during the harvesting process. With a built-in light to improve illumination and a touch-screen monitor for the surgeon, the SmartGraft device enables a more efficient procedure, with less scarring and more hair follicles preserved. The grafts are then transplanted into the areas of hair loss by hand.
NeoGraft
The NeoGraft device automates the hair transplantation process by creating precise incisions around the hair follicles and extracting them with vacuum suction. The NeoGraft device stores the hair in a sterile and temperature-controlled solution before implanting the hair follicles through reverse pneumatic pressure, which places them at the ideal depth in the scalp. The device removes the need for manual removal or implantation with forceps, and transfers the hair without the risk of damage or contamination – preserving more hair and resulting in more volume and fullness. Furthermore, it enables higher levels of grafting precision, reduced pain and discomfort from the procedure, and a faster recovery.
ARTAS
The ARTAS hair transplant system is fully robotic, automated technology that efficiently identifies ideal hair follicles for FUE hair transplantation using digital imaging. It then creates small circular incisions around the follicular unit using an automated punch device, and technicians remove the freed hair follicles for transplantation. The accuracy of the punch eliminates unnecessary damage to the hair follicles so that more grafts survive. The grafts are then prepared for transplantation and put into the robotic arm, which inserts the follicular units into the recipient sites. ARTAS can be programmed at customizable densities so that no bald patches or visible signs of hair removal are present, and that recipient sites are evenly spaced for natural-looking results.
Benefits
In contrast to the traditional strip method of hair restoration (also known as follicular unit transplant or FUT), – FUE utilizes the latest advances in hair restoration technology for a less-invasive and more effective procedure. By removing individual grafts of hair-growing follicles, FUE provides patients with a series of major benefits:
More precise and natural-looking results
No linear scar on the back of the head
No general anesthesia or IV sedation is required during the procedure
Less bleeding and fewer complications during surgery
Less downtime and fewer activity restrictions during the recovery process
No numbness or loss of sensation on the back of the scalp
Candidates
If you are experiencing hair thinning or hair loss and want to achieve a fuller head of hair, then FUE hair restoration may be able to help you achieve your goals. Aside from a motivation to achieve a more robust hairline, ideal candidates for FUE treatment will have a sufficient amount of donor hair (usually drawn from the back of the head) and good overall health. It is also important to have realistic expectations of what can be achieved through hair restoration surgery.
Personal Consultation
At California Hair MD, we make sure every patient has a first-class experience. Prior to any procedure, we will have you speak with one of our physicians during a personal consultation. A thorough evaluation of your hair follicle density, hair shaft width, the extent of hair loss, the cause of the hair loss, and the future trajectory of hair loss will be required to ascertain the ideal treatment plan.(7) During the consultation, you will learn about hair restoration treatments and techniques to determine the best treatment approach for you. At California Hair MD, we believe that patient education is essential, and we want to ensure that you have detailed information about your treatment options.
Preparation
Leading up to the day of the procedure, patients will be required to cease the use of alcohol, tobacco products, and non-steroidal anti-inflammatory drugs (NSAIDS) such as ibuprofen for 2-7 days. Patients must also discontinue minoxidil treatment prior to the procedure in order to reduce the risk of bleeding.(6)
Procedure
A local anesthetic is applied to the scalp before the procedure begins. You may also be prescribed a sedative to keep you relaxed during the procedure.(6)
Depending on the extent of the treatment, multiple sessions may be required in order to harvest and graft the required amount of hair follicles. The use of robotic devices such as ARTAS and NeoGraft will significantly increase both the speed and accuracy of the hair follicle harvesting and grafting process, thus reducing the total number of sessions required.
Recovery
FUE hair restoration treatment has minimal downtime. The recovery process will be finished in only one week. While there are no stitches, you will have many tiny scabs from where the grafts were removed, which typically heal and fall off a few days after your procedure. The grafted hair follicles become established in their new location by the 10th day of recovery. During this time, sleep with your head elevated, avoid swimming, using certain hair products, and engaging in strenuous activity. You'll be given instructions on how to care for your treatment areas as you recover. An ice pack can be applied to reduce swelling (which should only last about three days after the procedure). Most patients will only need to miss a day or two of work and are back to most of their regular daily activities, including exercise, within a week. Complications from surgical hair transplant treatments are very rare, occurring in only 2-3% of patients, and are typically caused by inexperienced practitioners.(7)
Results
While it varies slightly between patients, the grafted hair will generally take between six to twelve months to establish a regular growth cycle.(4) The results of the procedure are permanent, and you'll be able to enjoy natural-looking, naturally-growing hair for many years to come!
Corresponding and Complementary Procedures
Non-surgical treatments can be implemented after your FUE procedure for additional hair restoration. Topical treatments such as Rogaine (minoxidil) and oral medications such as Propecia (finasteride) can enhance and maintain the results of your hair transplant.
How Much Does FUE Hair Restoration Cost in Southern California?
The cost of FUE hair restoration depends on the extent of the treatment. Recent advances in FUE technology have made the procedure less expensive and available to more patients than ever before. With a vast array of hair restoration treatment options available at California Hair MD, we can work to find a treatment plan that works for you and your budget. You will have detailed information about the specific cost of your treatment plan following your personal consultation with Dr. Chaffoo.
References