Comparing FUE vs. NeoGraft vs. ARTAS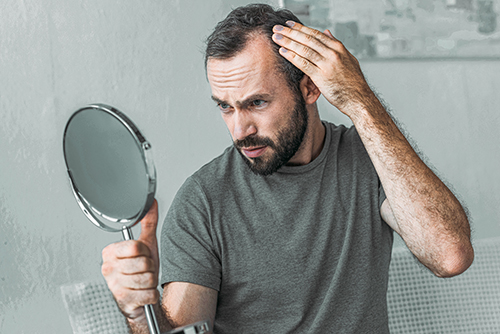 When considering hair restoration in California, you have options. California Hair MD brings patients access to advanced treatment options, including FUE, NeoGraft, and ARTAS.
How do you decide which is best for your hair restoration needs?
All the treatments we offer are scientifically validated and hand-selected by Dr. Chaffoo and Dr. Stuart. Each treatment offers patients unique benefits for restoring a fuller head of hair and a more natural hairline. Our team will guide you to the best options for your hair restoration needs. Dr. Chaffoo often combines technologies like NeoGraft and ARTAS to create a customized solution when patients have challenging hair restoration needs.
Turn to the expertise of California's best hair restoration practice, California Hair MD, to access the benefits of FUE, ARTAS, NeoGraft, and other advanced hair restoration solutions.
Before and After Photos
What Is FUE?
FUE, or follicular unit extraction, is an advanced hair restoration technique. It is quickly gaining popularity, overtaking the older method of FUT (or the linear strip method) as one of our patients' favorite solutions.
In FUT hair restoration, a surgeon carefully excises a strip of hair-bearing skin from the back of the head. Then, they divide the tissue into hair follicles and transplant them into areas that need additional hair. FUT allows for quick harvesting of many hair grafts, but the long, linear scar it creates can limit hairstyle options.
FUE harvests and transplants individual hair follicles. Traditionally, this technique is very time-consuming, but devices like NeoGraft and ARTAS help automate the process and make FUE more accessible to men and women seeking hair restoration.
Benefits
FUE is quickly becoming the most in-demand hair restoration option because of the many benefits it offers over traditional FUT.
The advantages include the following.
No linear scar: By harvesting individual hair follicles, FUE eliminates the long, linear scar traditionally associated with hair restoration. While some scarring may occur at extraction and implantation sites, these scars are tiny (less than 1 mm) and are not typically noticeable to the casual observer.
More style options: With FUE, patients can enjoy any hairstyle they choose, long or short. Only a minimal amount of hair is necessary to hide the donor area. Whether you prefer short-clipped cuts or longer styles, with FUE, you can wear your hair however you like.
Less invasive: FUE is much less disruptive than FUT.
Faster recovery: Since FUE is less invasive than FUT, patients heal much quicker. Many people only miss a few days of work.
Fewer activity restrictions: Activity restrictions are minimal after FUE. Go back to work, exercise, and other pursuits much sooner.
More comfortable: Discomfort is minimal after FUE for most patients.
Natural-looking results: FUE creates natural-looking hairlines when performed by a skilled hair restoration superspecialist like Dr. Chaffoo. He carefully places and angles each hair to create a realistic hairline that rivals natural density and placement.
Considerations
FUE is an excellent option for hair restoration, but there are some challenges associated with this technique. Treatments like NeoGraft that automate some aspects of the FUE process can alleviate some of these obstacles, making FUE more accessible to many patients.
Time: Manual FUE is a painstaking process, especially for patients who need a significant number of grafts.
More options: FUE gives Dr. Chaffoo options. He can extract grafts from many areas of the scalp and have flexibility in placement. These are advantages if you work with a skilled surgeon, but inexperienced surgeons may not know how to optimize donor and recipient sites for long-lasting results.
FUE can create stunning and natural-looking results, but it is essential to work with a board-certified plastic surgeon with knowledge of modern methods. Hair transplantation is equal parts art and medicine, requiring surgical skill and an artistic eye to produce optimal results.
Dr. Chaffoo is a triple board-certified plastic surgeon and the co-founder of California Hair MD. With decades of surgical experience and an intensive knowledge of hair restoration options and techniques, he can create the natural-looking and long-lasting head of hair you desire.
Manual FUE
Manual FUE is a highly controlled and gentle option for hair restoration. With manual FUE, the surgeon has complete control of the extraction site, cutting angle, graft size, depth, and extraction force.
While manual FUE allows for a completely customized hair restoration experience, it is a time-consuming process that requires a skilled and experienced surgeon.
NeoGraft
NeoGraft is a type of automated FUE that harvests, stores, and places individual grafts using a specialized device. NeoGraft is a no-touch system that optimizes every step of the surgical process, from extraction to implantation. It reduces damage to hair follicles and improves graft survival for a thicker, fuller result.
By partially automating the FUE process, NeoGraft can reduce treatment times and increase the affordability of FUE hair transplantation. While NeoGraft automates many aspects of hair transplantation, it allows the surgeon incredible flexibility to use their hair restoration expertise for better outcomes.
ARTAS
ARTAS robotic hair restoration is one of the only hair restoration options to use robotic technology for enhanced hair transplantation outcomes. This advanced system combines the precision of a robot with the advanced hair restoration expertise of a world-class hair restoration superspecialist like Dr. Chaffoo. The ARTAS system uses computer imaging to select thick and healthy hair follicles and precision robotics to extract, store, and place hair grafts.
With ARTAS, patients can enjoy FUE results in a faster, less invasive procedure. And this advanced system can create results that surpass a natural hairline.
Consultation
Which FUE hair restoration option should you choose? Manual FUE, NeoGraft, and ARTAS each offer distinct benefits to men and women seeking hair restoration. Explore your options and find your best solution at California Hair MD.
At our offices in La Jolla, San Diego, Beverly Hills, and Newport Beach, we conveniently serve patients throughout Southern California. With fly-in service and virtual consultations, patients from across the globe can rely on our world-class service and advanced hair restoration techniques. Schedule your complimentary consultation by contacting California Hair MD today. 
FAQ
Yes. Well-designed Hair Restoration should be virtually imperceptible and natural looking even when a patient combs his or her hair or steps out of the shower or pool. This is because Hair Restoration is performed by placing single hairs in the front of the hairline and gradually adding groups of hairs or follicles further back to create a very natural looking hairline that duplicates how the hairline looked prior to hair loss.
What Does FUE Cost?
FUE costs vary depending upon the size of the treatment areas and the number of follicles which are required to be harvested from the donor region. Costs also vary depending upon the expertise and training of the individual surgeon. Results are dependent upon the skill of the surgeon and selection of the appropriate patient for Hair Restoration surgery. This is a permanent procedure and it is best to obtain the services of a highly skilled and trained plastic surgeon who has training in aesthetic plastic surgery.
How many hair grafts will I need?
The number of grafts that will be required depends upon a number of factors and can only be determined at the time of consultation. Each graft varies in terms of the numbers of hairs or follicles in each graft.
Some follicles contain single hairs while other follicles contain multiple hairs. Therefore each graft is unique.
How Are Hair Grafts Maximized?
It is important to carefully assess and evaluate the donor area for the density, the anatomy and structure of the hair follicles and the types of follicles which are present in the donor area whether they are single follicles or groupings in each follicular unit. Only approximately 15% of follicles in the donor area are harvested at a single session to avoid thinning in the donor region. Our practice offers state of the art robotic Hair Restoration with the Artas i-x-i. This state of the art robotic hair transplantation system allows a surgeon to accurately and consistently harvest the most ideal follicles in the most random pattern possible with maximal preservation of the donor area. The follicles are harvested robotically at least 30% faster than can be done by a human. The graph quality is excellent and consistent as a robotic arm accurately precisely and in a reproducible manner harvest the most ideal follicles utilizing the robotic punch which is surrounded by stereoscopic cameras that scan the scalp surface avoiding scars thinned areas and selecting the most appropriate and ideal follicles for harvesting purposes. We are the only practice in Southern California that offers this advanced robotic device, the Artas i-x-i.
Will I Have Activity Restrictions During Recovery?
There are some restrictions immediately following Hair Restoration surgery. Patients are instructed to avoid aerobic activities for approximately 7 to 10 days following a hair restoration procedure. It's also recommended to avoid wearing a helmet for four weeks after the procedure such as would be used during mountain biking, snowboarding or scuba diving. We also recommend avoiding salt water exposure from the ocean for three weeks and a chlorine pool for four weeks after the procedure.