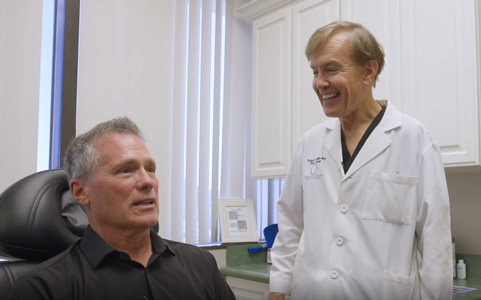 Your hair is part of your identity. Losing it can feel like losing a piece of yourself. Hair loss is common, but it doesn't have to be permanent. Modern hair restoration methods are creating better results with significantly less downtime. Restore your hair and your confidence.
California men and women with hair loss or thinning often turn to California Hair MD, one of the most respected hair restoration providers in California.
If you're considering hair restoration in California, reach out to California Hair MD for a complimentary consultation. A visit to our practice will show you the unique experience we offer far better than a website can. Our team shines when working with patients and helping them explore their options for treating hair loss. 
Contact one of our office locations to get started:
The Medical Specialties You Need for Superior Results
California Hair MD is founded and run by Dr. Susan Stuart, a board-certified dermatologist, and Dr. Richard Chaffoo, a triple board-certified plastic surgeon.
Hair loss has many causes and treating it requires a multi-disciplinary approach. By having specialists in both dermatology and plastic surgery, we can treat the root causes of hair loss while creating aesthetically pleasing hair restoration results.
While many hair restoration practices have a plastic surgeon or a dermatologist on their team, California Hair MD is one of the few in the United States to utilize both dermatology and plastic surgery specialists. Our unique team approach provides patients with better access to the latest scientific advancements and treatments in hair restoration. Our patients have access to the latest medical and surgical treatments for hair loss.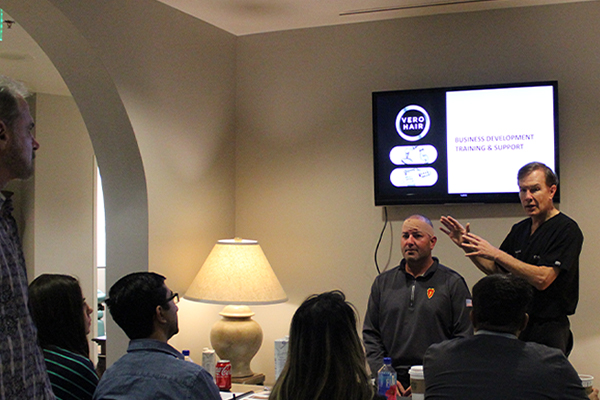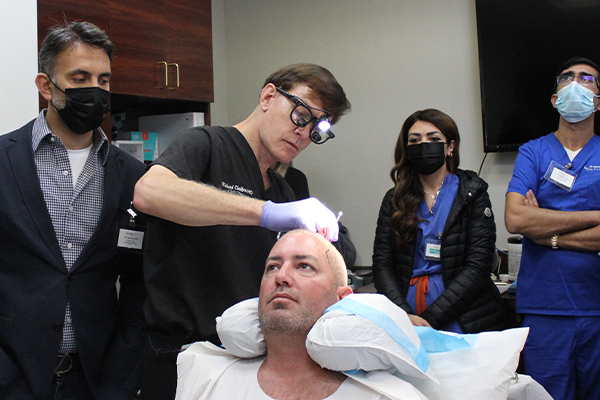 Individualized Patient Care
California Hair MD is a boutique practice with a focus on individualized patient care. We intentionally keep our practice small to enable us to provide each patient with a personalized treatment experience. We want our patients to play an active role in their care and have access to our doctors.
We know that hair restoration is never one-size-fits-all. Dr. Chaffoo and Dr. Stuart work with each patient to create personalized treatment plans for hair loss. Whether you're in the early stages of hair thinning or have significant hair loss, our team can help you to restore your hairline and your confidence.
As a small boutique hair restoration practice, most of our patients come to us through referrals. We strive to always provide care that will delight our patients so they feel comfortable entrusting us with their family and friends.
Natural-Looking Results
Look your best after hair transplantation. California Hair MD is known for creating natural-looking results. Our advanced methods for hair restoration eliminate the long, linear scar that is traditionally associated with hair transplantation. With FUE hair restoration at California Hair MD, patients can wear their hair in any style and at any length after their hair restoration procedure.
Before and After Photos
Convenient Treatment Locations
Hair restoration close to home is possible with California Hair MD. We have four conveniently located treatment locations, bringing patients access to our world-class service close to home. Our center is a high-end, state-of-the-art practice located on the campus of Scripps Memorial Hospital, La Jolla the premier private hospital in San Diego County. We are located within the XIMED Medical Building, home to many of the best private medical practices in the city. We also have locations in Beverly Hills and Newport Beach.
In addition to serving many local patients, we also offer our services to out-of-town patients. Our team is available to help you find the best local accommodations while you fly in for your hair restoration procedure. Cyber consultations are available so you can explore your options before coming out for a visit.
Hair Restoration Experts
There are more options than ever for treating hair loss through hair transplantation. California Hair MD provides our patients with access to the latest scientific advancements in hair restoration. Explore some of our most popular treatment options including:
Cutting-Edge Technology
California Hair MD has the latest technology available for hair restoration. We were the first hair restoration practice to bring ARTAS i-X to both Orange and San Diego counties. We remain committed to finding and bringing our patients the latest technological advancements in hair restoration so they can enjoy better results and a more comfortable treatment experience.
Consultation
Hair loss is highly individualized. To achieve the best possible results, you need an individualized treatment solution. While many hair restoration practices serve large numbers of patients with a one-size-fits-all approach, California Hair MD works differently:
Our boutique practice focuses on individualized patient care.
We are the only hair restoration center in the U.S. run by a triple board-certified plastic surgeon and a board-certified dermatologist.
We offer patients the latest advances in hair restoration through comprehensive treatment solutions, science-based technology, and cutting-edge clinical research.
We are a Center of Excellence and train physicians from around the country and globe in the latest hair restoration techniques.
Contact
Are you ready to restore your hairline? Come to California Hair MD for personalized service, the latest treatments in hair restoration, and advanced medical and surgical care. Hair restoration treatments are most effective the earlier they are started. If you're experiencing hair loss or thinning, don't wait to contact California Hair MD.
Contact one of our California hair restoration locations to schedule your consultation: La Jolla (800) 373-4773, Beverly Hills (800) 373-4773, San Diego (800) 373-4773, Newport Beach (800) 373-4773.
Schedule a Consultation