Female Hair Restoration
Consultations offered at our four convenient locations in La Jolla, San Diego, Newport Beach and Beverly Hills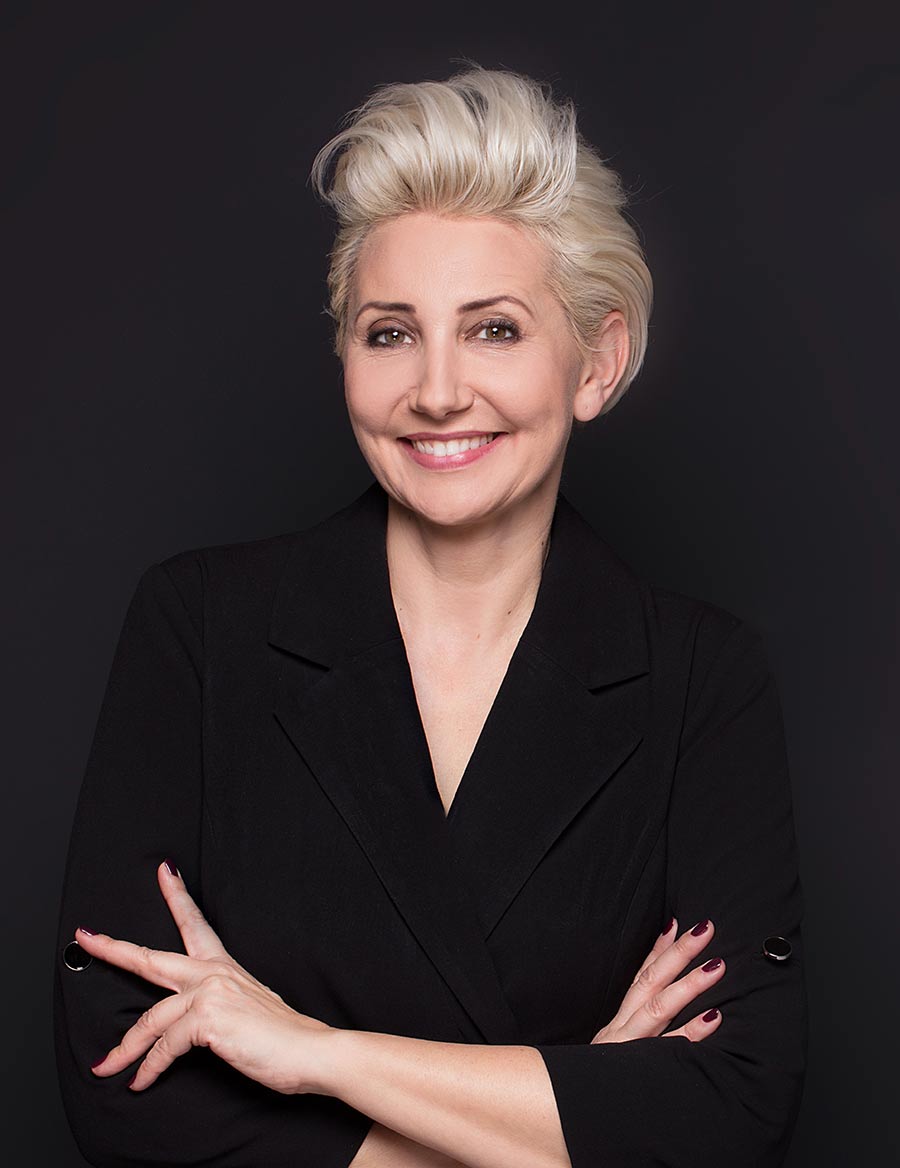 Female hair restoration is a way for women that have suffered from hair loss to improve density and coverage. Approximately 55% of women experience hair loss at some point in their lifetime, with female pattern hair loss being the most common cause. [1] As women age, the likelihood of experiencing hair loss increases; this can result in emotional distress and social difficulties. When hair loss happens, you need trusted advice to explore potential solutions. California Hair MD is on the cutting edge of hair restoration. Our practice was founded by a dermatologist and plastic surgeon team, giving our patients access to the latest research and treatments in both medical and surgical techniques for addressing hair loss. California Hair MD is active in research and clinical trials making it one of the leading centers for hair restoration in the country.
Dr. Richard Chaffoo and Dr. Susan Stuart offer a range of treatment options and will work with you to develop a personalized treatment plan that addresses the underlying cause of your hair loss. We understand the emotional impact of hair loss and strive to provide compassionate and confidential care to all our patients. With California Hair MD, you can be confident that you are receiving the most advanced and effective hair restoration solutions available. If you're a woman experiencing hair loss, come to California Hair MD and work with our world-class physicians. Our board-certified dermatologist and triple board-certified plastic surgeon will work with you to find solutions to restore your hair and your confidence. Call (858) 623-0221 in La Jolla, (949) 612-2002 in Newport Beach, (619) 633-3100 in San Diego, or (310) 595-1188 in Beverly Hills. Patients can also fill out our online form to get in touch.
To learn more about the root cause of your hair loss, and the cutting-edge treatments offered by California Hair MD, follow our blog.

About Female Hair Restoration
Female hair loss isn't as widely talked about as male hair loss, but that doesn't make it less distressing when it happens to you. As women age, the likelihood of experiencing hair loss increases. Approximately 12% of women between the ages of 20 and 29 will experience hair loss, and this number increases to over 50% for women over the age of 80. [2] Female hair restoration has a few unique challenges, but can be very effective. We use state-of-the-art technology and advanced techniques to provide our patients with effective hair loss treatments for women.
What Options Do Women Have for Addressing Hair Loss?
Many of the treatments we use for treating male pattern baldness can also be used to encourage hair regrowth for women. California Hair MD is a boutique hair restoration practice that utilizes the latest advances in hair restoration to help our patients rediscover a fuller head of hair. If you're experiencing female pattern hair loss or other types of hair thinning, contact us for a complimentary consultation to explore your options. There are many female hair loss treatments available.
Medications for Female Hair Loss
Medical treatments for hair loss are most effective if they are started in the early stages of hair loss. Topical treatments like minoxidil can be very effective in some patients, especially when paired with other therapies.
Patients that don't care to use topical minoxidil are candidates for low-dose oral minoxidil, which has very few side effects.
There are several other prescription medications for female pattern hair loss which the doctors might prescribe.
Non-Surgical Treatments for Hair Loss in Women
Non-surgical treatments can help address hair thinning and loss in women. Platelet-rich plasma (PRP) is a useful treatment option that can improve follicular health and stimulate regrowth. During a treatment session, the patient's blood is drawn and then spun in a centrifuge to isolate the platelets and other essential growth factors. It is then injected in the areas affected by hair loss. California Hair MD is the only practice in San Diego that offers dual spin PRP, which allows us to obtain a much higher concentration of platelets and growth factors. As a result, only a single treatment is required. Other clinics require multiple treatments over several months, because they are using a much more dilute version of PRP, and patients must wait much longer to see results. Because it's a single treatment, dual spin PRP therapy is more effective, less, painful, and less expensive. Another option is scalp micropigmentation, which can help hair to appear thicker and fuller. California Hair MD has many options available for non-surgical hair regrowth for women.
Hair Transplantation for Women
Several hair transplantation options may be available to women including FUE hair transplantation and FUT (linear strip method). In hair transplantation, hair is surgically moved (typically from the back of the scalp) to areas of hair loss to create a thicker, fuller hair appearance. While this technique is more challenging in women than men, it can be very effective in carefully selected patients.
FUE hair transplantation requires shaving large portions of the head. Many female patients prefer to avoid shaving the head when possible. If you're concerned about shaving your head, Dr. Chaffoo may recommend FUT hair transplantation, one of the most popular options for female hair transplantation.
FUT vs. FUE
FUT, or Follicular Unit Transplantation, is a traditional hair transplant method in which a strip of skin is removed from the scalp, and the hair follicles are then harvested from that strip. The harvested hair follicles are then transplanted to the area of hair loss; this method can provide a large number of hair follicles in a single session, and it is often used to treat larger areas of hair loss. However, it does leave a linear scar on the scalp, which can be visible if the hair is cut short.
FUE, or Follicular Unit Extraction, is a newer hair transplant method in which individual hair follicles are harvested directly from the scalp, rather than removing a strip of skin. This method does not leave a linear scar and allows for a more natural-looking hair growth. However, it is a more time-consuming process, requires shaving of the donor area along the back of the head, and may not be suitable for treating larger areas of hair loss.
Both FUT and FUE are effective methods of hair transplantation, and the best method for you will depend on your individual needs and preferences. Dr. Chaffoo will provide the best advice after a comprehensive examination and discussion.
What Causes Female Pattern Baldness?
Hair loss in women can have many causes. While male pattern baldness is often tied to genetic and hormonal factors, female hair loss is often more complex. Successfully treating hair loss in women requires a deep understanding of the underlying medical causes and a comprehensive treatment plan to address these issues.
Some common causes of hair loss in women include:
Female Pattern Hair Loss
Female pattern baldness typically presents in a different pattern than male pattern baldness. Hair loss typically begins with a widening of the part. Eventually, hair may become noticeably thinner across the entire scalp. Female pattern baldness can vary in severity from mild hair loss to extensive.
Do Hormonal Changes Contribute to Hair Loss?
Hormonal fluctuations may lead to hair loss in women; this hair loss can be temporary or permanent. Hair loss is very common after pregnancy due to hormonal changes. Hair loss may also occur after a significant illness or emotional distress.
Medications and Hair Loss in Women
Some medications and medical conditions may cause hair loss in women, including:
Chemotherapy
Birth control
Thyroid medications
Antidepressants
Nutritional Deficiencies Can Cause Hair Loss in Women
Iron deficiency anemia may contribute to hair loss and thinning; this condition is common in pre-menopausal women.
What are the Benefits of Female Hair Restoration?
Hair loss can have a significant impact on a person's self-esteem and self-confidence, and restoring hair can help improve these feelings. Patients can look years younger with thicker hair, which can be beneficial in both personal and professional settings. Patients who receive treatment for thinning hair will also benefit from greater flexibility in hairstyles and a potential long-term savings on wigs, hairpieces, and hair styling products. Finally, hair loss can be a symptom of an underlying medical condition, so addressing that condition can improve the patient's overall health.
To determine which treatment plan will be address your hair loss, see the hair restoration "superspecialist," Dr. Chaffoo at California Hair MD!
Who is the Ideal Hair Restoration Candidate?
Women who are experiencing thinning hair on the crown of their head should consider a consultation with Dr. Chaffoo. The varying degrees to which a woman's hair loss may progress is demonstrated by the Ludwig Scale [3]:
Grade I – Visible thinning of hair on the top of the head, with a clear demarcation line approximately 1-3 cm behind the hairline in the front.
Grade II – Significant thinning of hair on the top of the head, extending beyond the area identified in Grade I.
Grade III – Complete baldness within the area identified in Grades I and II.
Hair loss is a common condition, but severe hair loss, as defined by Ludwig III is relatively rare and affects less than 1% of women. [1] If you suspect your hair loss may be caused by underlying medical conditions or medication, Dr. Chaffoo can help determine the cause and provide appropriate treatment options.
Personal Consultation
California Hair MD, founded by a team of dermatologist and plastic surgeon, is on the cutting edge of hair restoration, providing the latest research and treatments in both medical and surgical techniques for addressing hair loss. During your consultation for female hair restoration, Dr. Chaffoo will:
Review your medical history and conduct a thorough examination of your hair and scalp.
Discuss your goals and expectations for hair restoration and develop a personalized treatment plan.
Provide you with all the information you need to make an informed decision about hair restoration.
Offer you the latest and most advanced treatment options.
Your treatment plan will take into account your lifestyle and any underlying health concerns. The best time to come in for hair restoration treatment might have been years ago, but the next best time is today! Call (858) 623-0221 in La Jolla, (949) 612-2002 in Newport Beach, (619) 633-3100 in San Diego, or (310) 595-1188 in Beverly Hills to get started.
Preparing for Treatment
Depending on the course of treatment Dr. Chaffoo determines will best restore your hair to something of its former glory, there will be certain steps you should take before your first appointment. The California Hair MD team will provide you with all the necessary and important information leading up to your first appointment so you can arrive prepared and with an understanding of what your treatment and recovery will entail. If you have questions about how to best prepare, or if anything new arises, give us a call.
The Procedure & Recovery
The procedure and recovery period are two important steps in your hair restoration journey. Depending upon which procedure or treatment method Dr. Chaffoo determines will best address the progression of your hair loss, he will fully inform you of the expected steps the treatment requires and the downtime and recovery, if any.
What are the Results of Female Hair Restoration in Beverly Hills?
See your hair slowly return to a thicker, fuller state as you undergo treatment at California Hair MD. Results will vary depending on the severity of hair loss and the chosen treatment method, but you can expect to see a noticeable improvement within a few months of starting treatment. With proper care and maintenance, the results of your hair restoration treatment can be long-lasting. You can expect to enjoy a boost in self-confidence as you see your hair slowly return. Dr. Chaffoo and his team will work closely with you to ensure that you are completely satisfied with your results and that your hair restoration treatment is tailored to your specific needs and goals.
What is the Cost of Female Hair Resoration in San Diego?
Treatment costs for hair restoration vary. The best way to get accurate pricing information is to schedule a complimentary consultation. During your consultation, you'll discuss your treatment goals with one of our board-certified physicians and create a personalized treatment plan; this information will allow us to provide accurate pricing information. Call today!
References
Quan Q Dinh & Rodney Sinclair (2007) Female pattern hair loss: Current treatment concepts, Clinical Interventions in Aging, 2:2, 189-199, DOI: 10.2147/ciia.S12159900
Gan DCC, Sinclair RD. Prevalence of Male and Female Pattern Hair Loss in Maryborough. Journal of Investigative Dermatology Symposium Proceedings. 2005;10(3):184-189. doi:10.1111/j.1087-0024.2005.10102.x
173. Sinclair R, Patel M, Dawson TL, et al. Hair loss in women: medical and cosmetic approaches to increase scalp hair fullness. British Journal of Dermatology. 2011;165:12-18. doi:10.1111/j.1365-2133.2011.10630.x