ARTAS i-X-i
Consultations offered at our four convenient locations in La Jolla, San Diego, Newport Beach and Beverly Hills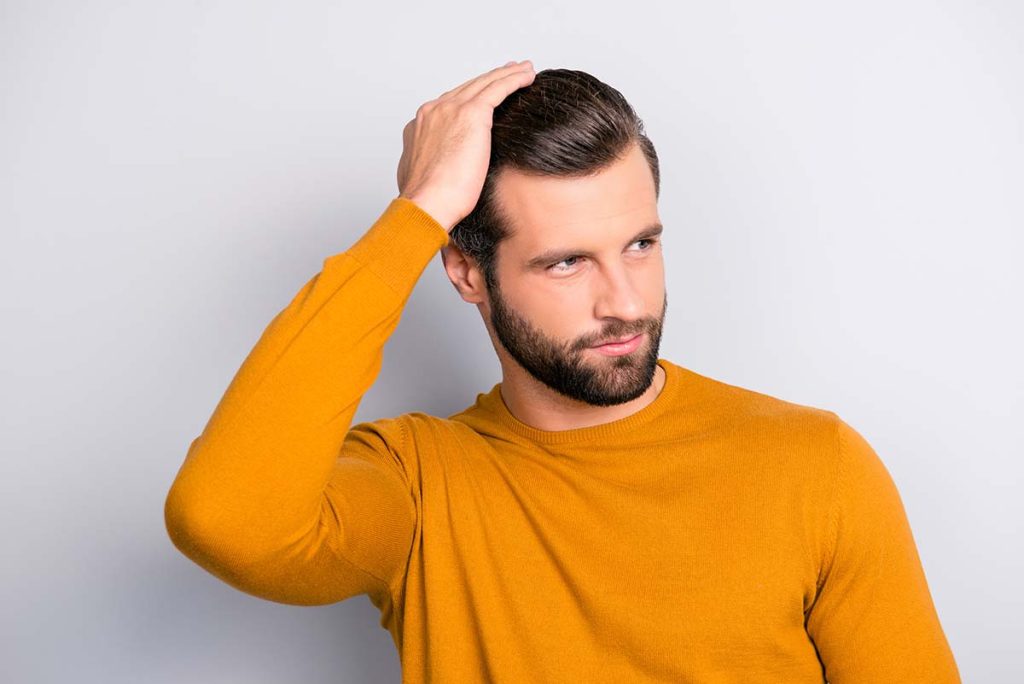 The ARTAS i-X-i robotic hair transplant system is a technological innovation that has revolutionized the hair restoration industry, improving hair transplantation results for many thousands of patients. Using follicular unit extraction (FUE),  this state-of-the-art platform eliminates the long incisions, stitches, scars, and extended recovery of prior hair restoration techniques, while creating natural-looking, vibrant results.
Dr. Richard Chaffoo, America's First  Triple Board Certified Hair Transplant Plastic Surgeon, uses his artistry and the latest technology including the fully robotic ARTAS i-X-i robotic hair transplant system, to restore hairlines and confidence at California Hair MD. Our practice is the first and only clinic in the country to offer the ARTAS i-X-i, the newest and most advanced robotic hair transplantation device. We are delighted to offer our patients the best possible results and a premium experience. So, if you're considering hair restoration in La Jolla, San Diego, Beverly Hills, or Newport Beach, or the surrounding areas, schedule a consultation with us. Contact your nearest location to explore this transformative treatment option. 
Our Offices
La Jolla: (323) 746-4600
San Diego: (619) 633-3100
Beverly Hills: (310) 595-1188
Newport Beach: (310) 595-1188
Before and After Photos
How Does Robotic Hair Restoration Work?
Hair loss is very common. It is estimated that androgenetic alopecia, or male pattern baldness, affects between 30-50% of men by age 50. (2) But although androgenetic alopecia is the most common reason for hair loss, it has many other causes, from health to environmental conditions. In fact, one of the key elements of the condition is hormonal. Male hair follicles are sensitive to the hormone dihydrotestosterone (DHT). Eventually, these hairs fall out and do not regrow.
Not all hairs on the head are sensitive to DHT; hairs at the sides and the back of the head are usually resistant to its effects. This resistance is the reason for the characteristic balding pattern that men typically experience. Robotic hair transplantation moves hair from the sides and back of the head to restore a natural-looking hairline. By removing only a small portion of the hair on the sides and back of the head, men can retain the appearance of a fuller head of hair.
Advanced Hair Restoration with ARTAS i-X-i.
At first, it may seem as though there are too many treatment methods to choose from. But don't worry, let hair restoration superspecialist Dr. Chaffoo and board-certified dermatologist Dr. Susan Stuart be your guides. There are completely non-invasive options, and multiple minimally-invasive procedures are also available. Most patients no longer choose the FUT method in favor of FUE, which can be performed with the manually-assisted NeoGraft, or robotically with ARTAS depending upon the doctors' evaluation of which device is best for you.. 
The ARTAS robotic system for hair transplantation uses precision robotics, artificial intelligence (AI) and digital imaging to carefully select the healthiest hair follicles for harvesting and implantation.This system is highly accurate and ensures that hair at the donor site will remain thick by leaving the remaining hair follicles untouched. The finished results are natural-looking, helping patients to regain confidence in their appearance.
The most effective method for your particular hair type and thinning can be found via a thorough evaluation with Dr. Chaffoo at a personal consultation.
What is ARTAS?
Robotic hair transplantation is so effective because it not only rapidly and accurately harvests follicular units, but also does so with minimal scarring. (2) The ARTAS system carefully selects only the healthiest hair follicles for hair transplantation. The system chooses and removes individual follicles without damaging the surrounding hair. Robotic precision allows for smaller incisions, reduced trauma to the scalp and hair follicles, and higher quality grafts. By relegating stitches and long, linear scars to the past, modern hair restoration techniques like ARTAS have brought new, effective options for a fuller head of hair.
The ARTAS hair transplantation is the most advanced method and the only robotic system in the world. ARTAS improves FUE techniques to create long-lasting and natural-looking results with less downtime and scarring.
About ARTAS i-X-i
ARTAS i-X-i is the only robotic surgical device in the world specifically designed for hair restoration. California Hair MD was the first practice in the USA to introduce the platform for patients in the country and overseas. And, we are the first practice in the world to offer this technology for patients.
The device utilizes several stereoscopic cameras that scan the scalp faster than the human eye and brain can process to find the most ideal hair follicles to harvest using artificial intelligence (AI). Robot-harvested follicles have the following benefits.
Precise follicular unit extraction
Reproducible results
Consistent reliability
Superior speed and accuracy over manual or semi-automatic devices
In addition, the ARTAS i-X-i is able to create recipient sites and implant follicles within much of the frontal area of the scalp. It visualizes surrounding normal hair follicles to reduce any damage to them during the transplantation process. (3)
The future is bright for robotic hair restoration! California Hair MD is one of the primary research and testing centers for the ARTAS robotic system, aiding the company's research engineers in continually perfecting the device. Our work with ARTAS i-X-i is ongoing to develop effective applications for implantation into the more complex crown region. So stay tuned for breakthroughs in this exciting area of development.
Why Choose California Hair MD for your ARTAS Hair Treatment?
California Hair MD is the only hair restoration center in the nation under the direction of a America's First Triple Board-Certified hair transplant plastic surgeon and a Board-Certified dermatologist. Because of this unique combination of expertise, our patients enjoy the most comprehensive and state-of-the-art medical and surgical treatment for hair loss, ensuring natural-looking results without linear scarring. 
Patients will experience the most up-to-date care from our highly trained and experienced team and staff. Our team has an advanced understanding of the artistry involved in recreating a natural hairline, so you can rest assured knowing the most precise extraction and placement techniques will be applied during your procedure. After hair loss treatment, our patients report a thicker and natural appearing hairline and renewed self-confidence!
Where Can I Find ARTAS Hair Transplantation Near Me?
California Hair MD is proud to have four state-of-the-art locations, each equipped with the very latest in hair restoration technology. With our expertise, ARTAS robotics, and other advanced hair restoration techniques, we are uniquely poised to create a healthy head of hair that looks great. Visit one of our offices in La Jolla, San Diego, Beverly Hills, or Newport Beach or contact us to learn more.
Personal Consultation with Dr. Chaffoo
Dr. Chaffoo, Dr. Stuart, and the team at California Hair MD are delighted to bring patients this innovative ARTAS option for hair transplantation, which all begins with an initial consultation with the doctor, NOT a consultant,  at one of our four Southern California locations. With offices in Beverly Hills, San Diego, La Jolla, and Newport Beach, we are conveniently located and ready to serve men and women throughout the region. Contact us to schedule your first visit and find better hair restoration with precision robotics and expert knowledge!
Cost of ARTAS Hair Restoration in Beverly Hills, CA
The cost of your hair restoration treatment will depend on the difficulty of the procedure, the extent of hair loss, and the number of grafts needed for hair restoration. To ensure each patient receives accurate pricing information for their desired aesthetic results, we provide service costs at your consultation. Contact us to schedule a meeting with Dr. Chaffoo to explore your options. Banish baldness, and rediscover your confidence at California Hair MD.
La Jolla: (323) 746-4600
San Diego: (619) 633-3100
Beverly Hills: (310) 595-1188
Newport Beach: (310) 595-1188
Please see our resource pages for more information about ARTAS and other solutions to thinning hair. Dr. Chaffoo's blog is also readily available to help you make the right decision for your hair restoration.
FAQ
Why should I choose ARTAS for my hair restoration treatments in La Jolla?
ARTAS robotic hair restoration technology improves both experience and outcomes during the transplantation process. The ARTAS system minimizes damage to the hair, scalp, and grafts to ensure that transplanted hairs are primed for a successful transfer, minimizing loss and creating a more consistent result. It also eliminates the need for a visible linear scar, allowing patients to choose their hairstyle and length after hair transplantation. ARTAS is the most advanced FUE hair transplantation option available and creates beautiful, natural-looking results that our patients love.
How much downtime will I need after ARTAS hair transplantation?
Unlike many other methods for hair transplantation, ARTAS robotic hair transplants are minimally invasive and do not require invasive surgery. Patients can return to most daily activities as soon as they feel ready, often within 24-48 hours after the procedure. And, although there are few activity restrictions during the recovery process, ARTAS allows patients to return to work and other activities quickly with minimal downtime as compared to older methods.
Am I a good candidate for ARTAS hair restoration?
If you're experiencing hair loss or thinning, you may be a good candidate for hair transplantation with ARTAS. The best way to find out if you're a good candidate is to schedule a consultation with a hair restoration specialist that uses the most up-to-date procedural techniques. If ARTAS isn't the right option for you, another treatment option such as NeoGraft, or a non-surgical solution may be a better fit for your needs.
References
Cranwell W, Sinclair R. Male Androgenetic Alopecia. Nih.gov. Published February 29, 2016. https://www.ncbi.nlm.nih.gov/books/NBK278957/ 
Avram MR, Watkins S. Robotic Hair Transplantation. Facial Plastic Surgery Clinics of North America. 2020;28(2):189-196. doi:10.1016/j.fsc.2020.01.011
Zito PM, Raggio BS. Hair Transplantation. PubMed. Published 2021. https://www.ncbi.nlm.nih.gov/books/NBK547740/