Hair Transplant Newport Beach
Consultations offered at our four convenient locations in La Jolla, San Diego, Newport Beach and Beverly Hills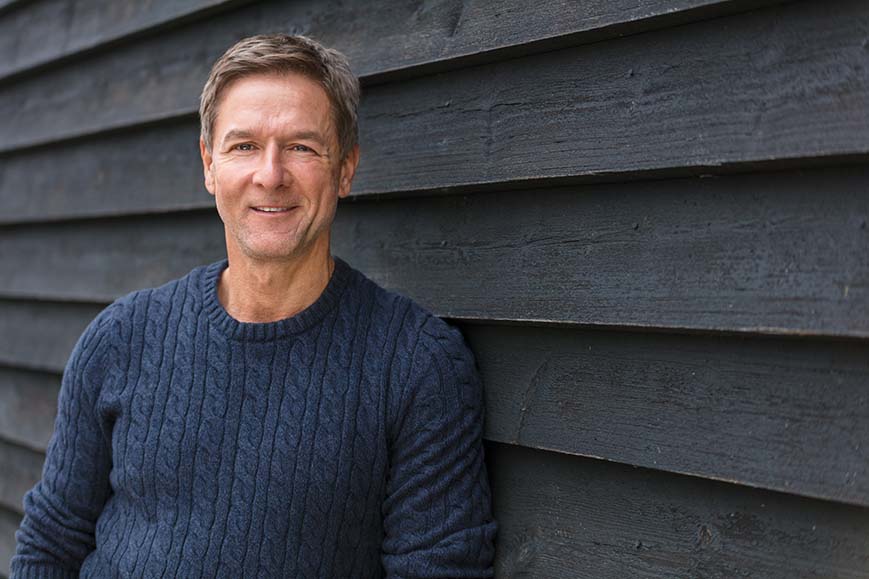 Hair transplantation is an advanced procedure that relocates living hair follicles into areas of hair loss. In most cases, healthy hair follicles are harvested from the back of the head, where hair is the thickest, but in some cases, hair from elsewhere can be used. Once transplanted, they will continue to flourish in their new location- giving you denser, fuller hair.
The main type of hair transplantation used today is Follicular Unit Extraction (FUE). This method can achieve natural-looking, long-lasting results. Our practice has been a training center for physicians interested in hair restoration, and we offer the latest technology for FUE hair transplantation including Artas (robotic FUE), Neograft, and other advanced FUE devices. Dr. Chaffoo will customize a treatment plan and choose the most suitable FUE device for a patient because of his personal experience with all of these surgical tools and their availability in our practice.  As America's first Triple Board Certified Hair Transplant Plastic Surgeon, Dr. Chaffoo and California Hair MD in Newport Beach, California is a leader in hair restoration technology. We were the first American practice to offer the Artas i-X-i treatment, a robotic device that performs hair transplantation with precision and speed. The combined expertise of our triple board-certified plastic surgeon, Dr. Richard Chaffoo, and board-certified dermatologist, Dr. Susan Stuart has provided patients in Orange County and beyond with results that they love! To learn more about your options for hair restoration, call (800) 373- 4773 and schedule a personal consultation. Our Newport Beach office is located in the Lido Medical Center, just off of Newport Boulevard. Too far north or south? California Hair MD also has offices in La Jolla, San Diego, and Beverly Hills.
Before and After Photos
The Science of Hair Follicles
Hair transplants in the United States began with the research of Dr. Norman Orentreich in the 1950s. He developed the term "donor dominance" to describe how hairs kept their same characteristics once they were transplanted. This principle explains that hair follicles can be taken from the back of the head and other areas where hair loss does not occur to successfully replenish lost hair along a receding hairline, or in a bald spot. (1) The follicles retain their characteristics, so they are able to thrive just as they did in their original location.
That's why choosing the right donor site is important when addressing the problem of hair loss, and so is identifying the cause. Hair loss affects 85% of men and 40% of women. The most common cause of hair loss in both sexes is androgenic alopecia (AGA), also known as female or male pattern baldness. This is caused by a mix of genetic factors and high sensitivity to androgen hormones. While androgens serve to help form male characteristics like facial and body hair, too many of these hormones can interfere with the hair growth cycle and cause hair thinning. Hairs on the back of the head are not sensitive to androgens, making them perfect for harvesting and implantation. They will continue to grow new hairs despite hormonal changes. (2)
When hair transplantation is performed, the amount of hair that can be replaced is determined by the number of follicular units (FUs) that are extracted. Each follicular unit contains 1 to 4 hair follicles, which include the "bulb" that creates the hair itself, a sebaceous gland that secretes oil for hair and skin lubrication, an arrector pili muscle that contracts the hairs for heat insulation purposes. All of these vital components remain intact when the follicular unit is successfully removed and placed in a new area. (2)
About FUE
Follicular Unit Extraction, or FUE, is an efficient, minimally invasive method of hair transplantation, and the most popular form of hair restoration surgery performed today. After administering a local anesthetic, a surgeon uses an instrument to create a small circular incision around the follicular units (FU) one-by-one, so that they can be harvested. The instrument itself is only 0.6 mm to 1 mm in diameter, so only minimal scarring is left behind. After the area around the follicular unit is incised, the group of follicles is retrieved with forceps to be transferred into a solution before replantation. (1) The entire process takes several hours, but when completed by a highly-trained professional, healthy hair can regrow at the crown and hairline. 
What is Neograft?
Neograft is one of the most efficient handheld devices used to perform FUE. With the Neograft device, FUs are extracted and retrieved with suction at the same time, rather than retrieved with forceps. With this method, the FUE process is completed at a faster rate, and the hair follicles are preserved in a much healthier state. (3)
What is ARTAS?
Along with our other locations, California Hair MD in Newport Beach, is the first practice in the USA to offer hair restoration treatments with the ARTAS i-X-i robot. ARTAS is the most advanced system of hair transplantation available today and utilizes 3D digital imagery to determine the best locations for harvesting hair follicles. The robot can also determine the exact angle of each hair follicle so that each unit is carefully extracted without the risk of human error and damage to the follicles. (3) This means that more viable follicular units can be harvested, and a higher rate of successful hair regrowth after transplantation. Finally, it is faster than both the Neograft method and manual FUE, so procedure time can be cut down significantly. 
Advantages of FUE
FUT, also called follicular hair transplantation, or the "strip method", is the oldest method of hair restoration. However, due to advances in FUE, this technique has largely fallen out of favor with potential patients and hair transplant specialists. During a FUT procedure, a surgeon would anesthetize the donor area, remove a strip of hair-bearing skin from the back of the scalp, and then suture the incisions closed. The follicles are then harvested from the strip of skin so they can be replanted in the recipient area. The downside to FUT is that patients are left with a long scar on the back of their head, so it's not ideal for people who want to wear their hair short. 
Preparation and Recovery
Hair transplantation is a highly intricate procedure that takes time and care to produce excellent results. Patients need to follow preparation instructions to ensure that the process goes smoothly. In the week leading up to their procedure, patients should:
Avoid drinking alcohol
Avoid all medications and supplements that thin the blood; these may cause unwanted bleeding during the procedure.
Avoid smoking
To promote a healthy recovery, patients should:
Avoid showering for 3 days following the procedure
Avoid strenuous activity for one week
Use a gentle, fragrance-free shampoo for the first 8 weeks
Avoid wearing hats or brushing your hair until instructed otherwise
Benefits of Hair Transplantation
For many men and women, hair transplantation doesn't just restore their hair, but also their confidence and self-image. This procedure can allow them to feel more youthful and attractive– boosting their professional and social life. They no longer feel the need to cover up with hats or use wigs and hair pieces, since the hairs from hair transplants are 100% natural and long-lasting. It requires little downtime and only causes minimal discomfort for patients.
Candidates
Men and women over the age of 25 who have experienced patterned hair loss are the ideal candidates for FUE and FUT. Though men and women lose hair differently, the key aspect is that patterned hair loss is predictable and stable. People under the age of 25 with signs of hair loss tend to experience it at a much faster rate, and other health conditions may be to blame, so the cause of their hair loss needs to be identified to determine their candidacy for a hair transplant.
People with diffuse unpatterned alopecia (DUPA) are not good candidates since they may not have viable follicular units to be transplanted – this condition causes hair loss in all areas of the scalp. Therefore, a hair transplant procedure may not solve their hair loss problems.
Ideal candidates should also be non-smokers (or plan to quit before the procedure) and have all other medical conditions well under control. This includes high blood pressure, diabetes, blood clotting disorders, immune system deficiencies, and heart disease. (4)
You should stop taking blood thinners, including alcohol, in order to ensure that there is no excessive bleeding during the procedure. Depending on your health, Dr. Chaffoo or Dr. Stuart may prescribe another treatment before considering a hair transplant. Finally, candidates should have realistic expectations for their outcomes.
To learn more about candidacy and the benefits of hair restoration, check out our blog. 
Personal Consultation for Hair Restoration in Newport Beach
During a personal consultation, you will get the opportunity to express your concerns about hair loss with Dr. Chaffoo or Dr. Stuart. They will first determine the cause of your hair loss, order some blood tests, and review your medical history. We are prepared to answer your questions about the procedure, help you make a decision, and be with you every step of the way. Call California Hair MD's Newport Beach office at (800) 373- 4773 or request a free consultation today. 
Cost of Hair Transplantation in Newport Beach, California
Depending on the extent of the procedure, and how many follicular units are harvested and transferred, the cost will vary. Dr. Chaffoo or Dr. Stuart will educate you on these factors so that you will be able to make an informed decision.
FAQ
Does getting a hair transplant hurt? 
After receiving a local anesthetic, the procedure itself will not hurt. After the procedure, some patients experience mild tenderness that can be relieved with over-the-counter medications. Itchiness is also a commonly reported effect of the procedure. 
Is hair loss normal after a hair transplant? 
Hair loss after a hair transplant procedure is also called "shock loss", and it is completely normal. The structure of the follicular unit that produces hair itself, the bulb, remains undamaged and will continue to produce hair after shock loss is finished. 
Will I need time off work after a hair transplant? 
If you work at a desk, you will be able to return to work the next day. With a strenuous job, you will have to take one week off to lessen the possibility of infection due to sweat. 
References